Jabberwock is the society's quarterly journal in A5 format. It contains articles on many diverse subjects which is given freely to all SoFFAAM members. Generally based around exploits of the Fleet Air Arm through the ages, but the aviation assets of other services are not neglected.
Articles from editions over the years have included:
809 Squadron in Ark Royal
Avro Bison and the Blackburn Blackburn
Barracuda Salvage
Captain Eric 'Winkle' Brown
Displaying the Sea Fury
Fairey Swordfish and U-Boats
Floatplane to Damascus
Gannets of 826 Naval Air Squadron
HMS Audacity and the Gibraltar Convoys
Operation Tungsten
Origins of the Harrier
RN aircraft Carrier losses 1939-1942
RNAS Tiree
RNAS and the Zeppelin threat
Seafire at War
Sea Change in the Pacific
Sea Venom in a crisis – Suez
Short Admiralty 184 Seaplane
Taranto 80 – FAAM Remembers
The destruction of L53
The Albert Medal
US carriers in UK waters
Wildcats sharpen their claws
Plus talks and book reviews and other information about the society's activities.
Jabberwock 105
This is our quarterly edition from November 2021, just click this link, eJabberwock 105 to view a PDF version and download.
We are making this edition available to all Members and the public alike, so that you can compare the electronic PDF version verses the paper edition.  All SoFFAAM Members receive Jabberwock as part of their Membership package.
For those members who want to switch to an eJabberwock, please contact the Membership Secretary, Simon Websper at soffaam.mem@gmail.com or phone him on 01823 433448 or 07527 707204.
If you are not a Member, we hope that you will enjoy reading our Magazine and please consider joining our Society.  All the Membership benefits can be viewed by clicking HERE, where you can also download a Membership Form or please contact Simon as above.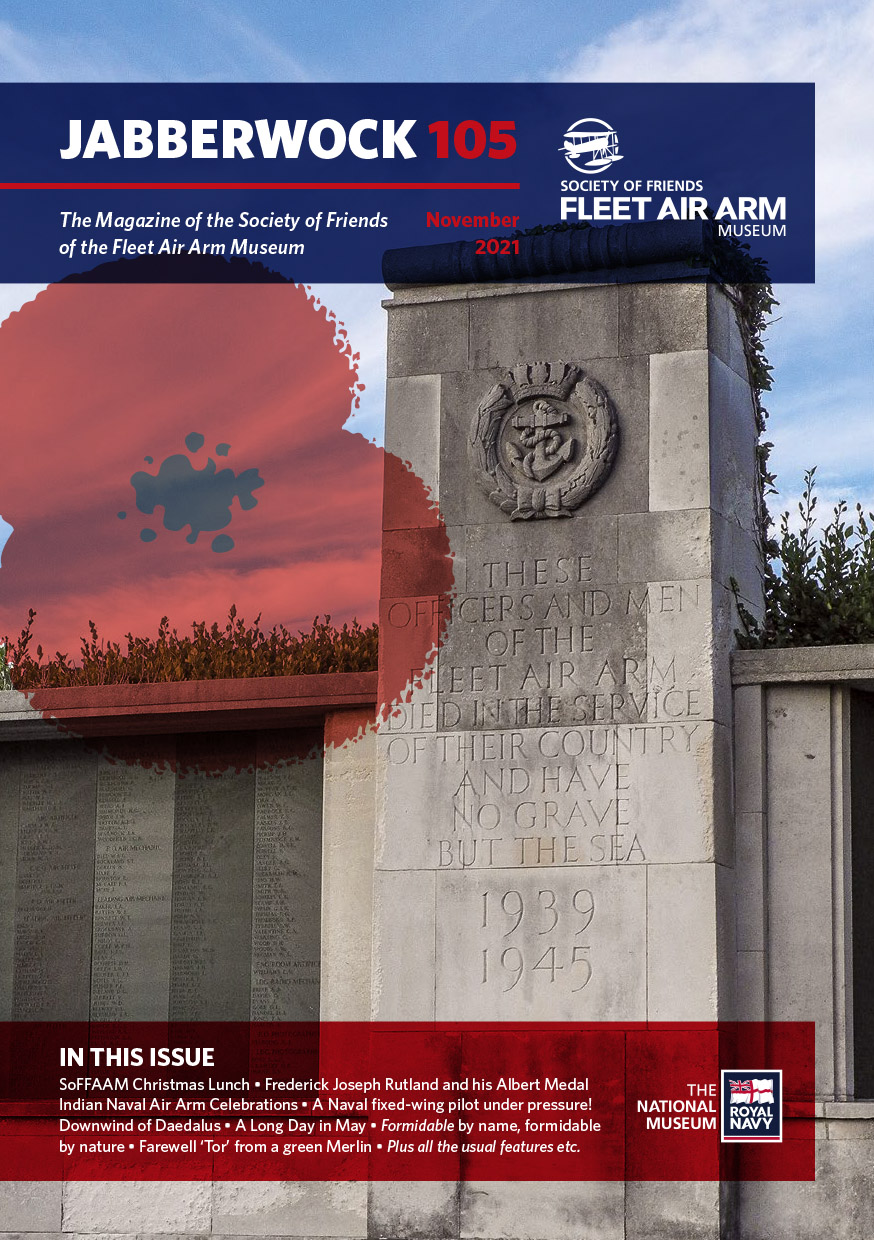 Jabberwock 100
Jabberwock 100 is a special edition published in August 2020 to commemorate the society's 40th year and the publications 100th edition.
Specially produced to include extra pages and A4 in size was welcomed by the membership, so extra copies were procured to sell to the public at £4.00 including postage and packing.
To order a copy, click the PayPal logo below:

Jabberwock Example
Click the button below to view a sample of our 100th aniversary edition of Jabberwock 100: