Supporting the FAA Museum
SoFFAAM Funds Refurbished Picture
As part of the Society's commitment to supporting the Museum, we agreed some months ago to fund the refurbishment of a painting that has been in the Museum's possession for many years. Entitled "Channel Patrol", this is a spirited rendition of a World War 1 Felixstowe F2 flying boat taking off from (or possibly alighting on) artistically stormy seas.
The artist, Charles E Turner, was born in Lancaster in 1893. He became a specialist in landscape and marine views. Proficient in watercolours and oils, Turner exhibited at the Royal Academy in London as well as in Manchester and Liverpool. Turner fought in both the First and Second World Wars, as a captain in the Royal Naval Air Service, combining active service with service as a war artist, signing his work C. E. Turner. His best-known work dates from the two world wars and many of his oils and watercolour paintings from this period are preserved in the collection of the National Maritime Museum and at the Imperial War Museum in London. He died in April 1965.
The FAAM originally requested funding from the Society at the June 2015 Council meeting and at the September meeting we were given an update as follows: "Our Conservator, Richard Pelter, has taken the painting away for conservation. An initial inspection shows that the discolouration of the painting is likely to have been caused by exposure to smoke in the immediate environment over many years. Fortunately, the frame and the canvas appear to be in good condition, as is the paint, with no signs of cracking or flaking at all. The overall treatment, therefore, is likely to be cleaning, as opposed to any requirement for remedial conservation, which is as we hoped and is a great relief." The Museum also asked Richard to clean the frame and to glaze the painting with ultra-violet filtered anti-glare glass, so that it may be put on display as soon as it returns to the Museum.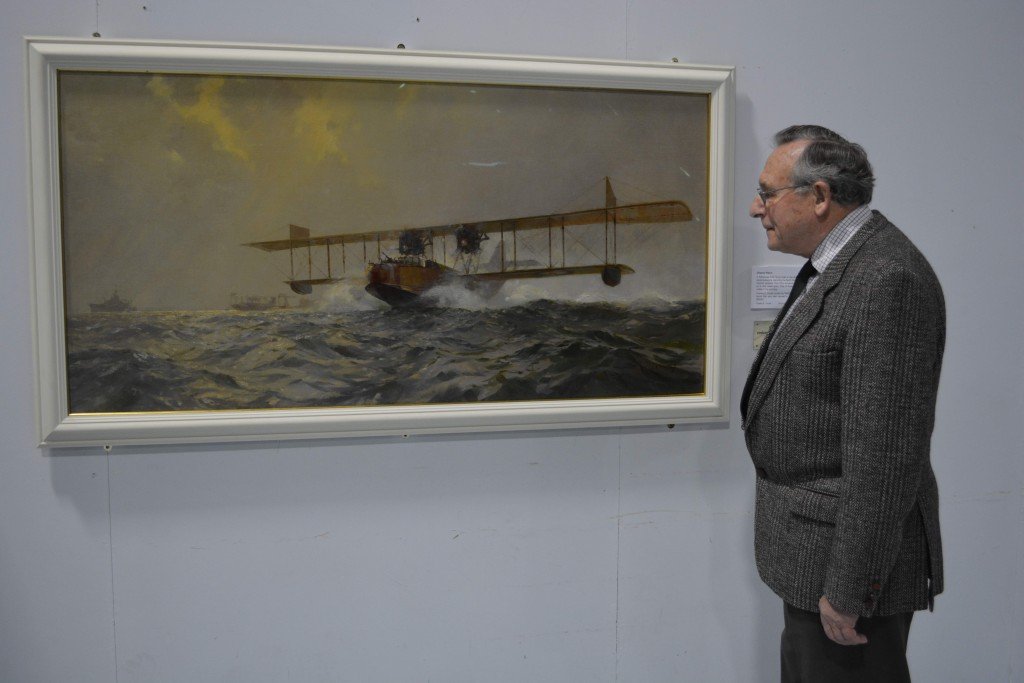 Unveiling of the Bust of Captain Eric "Winkle" Brown
An invited audience gathered before the restored Martlet fighter aircraft in the Fleet Air Arm Museum on 12 March 2015 for the unveiling. Among those present were Rear Admiral Terry Loughran, Chairman of the Museum Trustees; John Longworth-Krafft, Chief Executive Officer of the Fly Navy Historic Trust; Ray Hatton, also of the FNHT; Commander Henry Mitchell RN, Commander (Air) of the Air Station; Colonel Mike Smith (Commander ARF); Lt Colonel Paul Tedman (1 Regt AAC CO) and Captain Niall Griffin (CO CHF).
Assisted by Richard Hufton, SOFFAAM Chairman, Kirsty Young unveiled the bust after paying a brief tribute to Captain Brown. In a brief speech, Richard said that it has been a great honour for the Society of Friends, to fund this magnificent bronze artwork by Jenna Gearing. "Exhibits here are always of a high standard", he said, "but without doubt the bar was raised in 2013, with the commissioning of Jenna's earlier work, a bronze bust of RNAS air mechanic Henry Allingham. Now we have a second wonderful bronze tribute, to a WW2 record breaking naval test pilot. SOFFAAM has supported this great museum since 1979. New members are always welcome."