"The Wooden Wonder – Development of the de Havilland Mosquito" by Sqn Ldr (Rtd) Rod Dean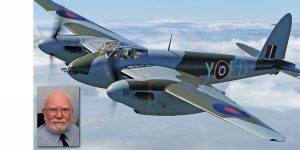 What better treatment for "lockdown blues" than a dose of 'Dean' as supplied by SOFFAAM? Tonight, we welcomed back Rod Dean for another of his excellent, well-informed and profusely illustrated talks. As you are probably aware Rod is an ex-RAF fast-jet pilot with enormous experience as a war-bird pilot, aerobatic display pilot and flying display organiser and co-ordinator. This must be his fourth or fifth talk to SOFFAAM, each different from the last and each very involving.
His Zoom talk was about the development and construction of the de Havilland Mosquito. A great deal has already been said and written about the vast range of operations undertaken by the Mosquito, so Rod made a point of not delving into those details, but instead concentrated on the personalities involved in its creation and how it was produced.
As a starting point, Rod illustrated some performance comparisons to demonstrate what made the Mosquito different and exceptional:
| | | | |
| --- | --- | --- | --- |
|   | Lancaster | B17 Fortress | Mosquito |
| Crew | 7 | 10 | 2 |
| Max Speed (kts) | 246 | 249 | 360 |
| Ceiling (ft) | 21,000 | 35,000 | 37,000 |
| Range (miles) | 2,200 | 2,000 | 1,300 |
| Bomb load (lbs) | 22,000 | 8,000 | 6,000 |
| Guns | 8x 0.303 | 10x 0.5 | None |
These numbers are a generalisation and dependent on endless variables, but they do highlight what made the Mosquito different. For speed and altitude alone, the Mosquito had the edge on even the Spitfire Mk. IX and only the Me 262 jet fighter could match it.
Who were the key personalities behind the development of the Mosquito?
Sir Geoffrey de Havilland, who was without doubt the principal driver behind the concept of a minimalist aircraft.
R E Bishop was the Chief Designer, responsible for many significant, successful aircraft designs.
Air Chief Marshall (ACM) Sir Wilfrid Freeman (Air Member for Development and Production) who was convinced that the Mosquito would meet its performance specification and authorised de Havilland to carry the proposal forward into production.
Lord Beaverbrook was appointed by Churchill as Minister for Aircraft Production (MAP) and according to Rod Dean, potentially caused greater damage to the UK aircraft industry than the Germans. He was regarded as a loose cannon and eternally battled with ACM Freeman. Beaverbrook wanted to concentrate production on a small range of aircraft types, whereas Freeman wanted all development to continue to ensure that requirements for the future could be met. Rod showed us a memo from Beaverbrook, dated early in the war, cancelling any further development of the Mosquito. Fortunately, the memo specified the bomber variant, so Freeman countered this by ordering the fighter version without telling Beaverbrook. Once the prototype had been built and tested it was immediately apparent that its potential could not be overlooked. Production commenced In July 1940 and throughout its life 7,781 were built. For protection against bombing raids, development of the prototype was moved away from the de Havilland factory at Hatfield to nearby Salisbury Hall; where, remarkably, the prototype can still be seen today as an exhibit in the de Havilland Museum.
By way of comparison Rod spent some time explaining and illustrating the design of the earlier de Havilland lightweight designs, starting with the DH88 Comet racer from 1934, which won the MacRobertson England to Australia air race. He followed this with the attractive DH 91 Albatross airliner of 1937. Both were of wooden construction and had very sleek, distinctive and extremely clean lines. Throughout the talk Rod illustrated every aspect and element he was covering and showed film footage of the Comet racer, trailed by a Mosquito flying a similar routine from which it was easy to see the transition of the concept. Alternative engines to the RR Merlin for the Mosquito were tested including the RR Griffon and the Napier Sabre, but the Merlin proved most satisfactory. Rod paid tribute to Sir Stanley Hooker of Rolls Royce – an expert in fluid dynamics whose refinement of the Merlin supercharger did so much to improve the engine's performance.
Rod Dean's knowledge and history of the Mosquito is truly impressive and I cannot hope to present all the facts and data on the wide range of marks, modifications and specifications produced. Suffice to say that the Mosquito filled the roles of: Bomber; Fighter Bomber; Fighter; Night Fighter; Photo Reconnaissance; Trainer; Sea Mosquito (which must have been a handful); Target Tower; and of course the specialist variants, modified to carry weapons like the Highball bomb and the 57 mm Molins canon. It was a versatile aircraft.
The construction of the Mosquito is as fascinating as everything else about it. During wartime, metals and the manual skills required to shape them were in high demand and short supply. de Havilland demonstrated great resourcefulness and innovation by making the Mosquito predominantly out of wood instead, which gave them much greater freedom and access to materials, and to skilled craftsmen within furniture factories for example, without over-straining existing resources and supplies.
The fuselage was built in two halves, a left side and a right side. Each side was formed around a large mould, which for durability during mass production was made of concrete. Plywood was used in the skin construction because its cross-layers gave added strength, flexibility and lightness. The mould contained slots for formers and internal strengthening, and after the inner skin of plywood was laid down on the mould, voids were then created and overlaid, into which balsa wood was inserted before the outer plywood skin was laid on. All of this was then glued with a special formulation before being pulled down with straps and turnbuckles to shape and tighten the whole structure. As a result of this novel method, very lightweight shells were created that two people could easily lift and move on to the next phase of construction. This method is known as carapace construction, a word more usually associated with crab shells and tortoise shells, but it is definitely apt. Having two complete shell sides also led to another novel technique, whereby each half shell could be wired and generally fitted out before the two halves were glued and screwed together to form a near complete fuselage. The fuselage was set up in a jig to retain rigidity and the whole was covered in doped woven cotton fabric to add strength and give an exceptionally smooth finish, which contributed greatly to the high speed performance. Rod illustrated this by referring to an air display routine he flew in a Spitfire Mk IX alongside a Mosquito. As both aircraft turned in to make a low pass towards the airfield, the Mosquito shot ahead and Rod asked the pilot why he had increased power, which left him trailing behind. The reply was that he had not increased power at all, the aircraft simply accelerated in the shallow dive.
Wing construction used similar materials and methods as the fuselage. The wing was made in one whole piece, with two spars and was the same design for all marks of the aircraft. In addition to gluing the component parts together, thousands of brass (to avoid corrosion) screws were also used. All fuel tanks in the wings were cross-fed so that if one tank was damaged, both engines could continue to operate from the undamaged tanks.
When it came to assembling the fuselage on to the single one-piece wing, great care had to be taken to avoid snapping the fuselage in two at the point where it was cut out for the wings. Only four bolts held the fuselage on to the wings, but once in place complete integrity was restored.
Look closely and you will see that the engine radiators are mounted-in the wing roots between each engine and the fuselage. They worked well and are yet another detail designed to create a minimalist and very streamlined profile.
With the potential to fly at 37,000ft, pressurisation was essential. This was a simple system providing moderate pressurisation, unlike anything we would expect to see in an aircraft today, but it worked.
Apart from recommending us to read his own book "50 years of flying fun", Rod Dean also recommended us to read the book "Wilfred Freeman – The genius behind allied survival and air supremacy 1939 to 1945" by Anthony Furse. In it, you will see that Freeman was also the man behind the transformation of the P51 Mustang from an Allison powered, underperforming ground attack aircraft, to one of the most outstanding long-range fighters of WW2, as a result of installing the RR Merlin engine – in this case Packard built.
I cannot do justice to all the detail given, but it was a great evening and another most enjoyable and enlightening talk. Thank you to Rod Dean and to the 'backroom boys' for enabling it.