Past Talks : February 2021
"Cobham Aviation Services UK" by Bill Preece, Head of Electronic Warfare Operations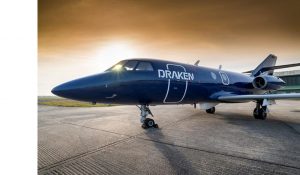 Back in the good old days, before Covid-19, Cobham Ltd was a well known manufacturer and supplier connected with a wide range of aviation and defence related activities world-wide. It all started in 1934 when Sir Alan Cobham founded Flight Refuelling Limited. Attempts to refuel aircraft in-flight had been made in the previous decade during attempts to set various world records. Alan Cobham, as he was then known, was a significant figure in promoting air transport as a practical concept – very novel indeed in those early days. The ability to extend the range of aircraft to undertake more rapid inter-continental journeys was seen by Sir Alan as key to revolutionising the practicality and acceptance of both commercial and military aviation. He made it happen. The company was a success and probe and drogue refuelling is now a routine event for military aircraft. In time Cobham grew its range of activities significantly through diversification and acquisition. As such, in the mid 1990s the company name was formally changed to Cobham plc, based in Wimborne, Dorset (aka, the centre of the known universe?), with operations in Europe, the Americas, Far East and Africa.
So much for background and reminiscences. Our speaker Bill Preece, brought us completely up to date at this point. Bill's background is a career of many years in the RAF as a fast-jet Electronics Warfare Operator; followed by career development with Leonardo; prior to joining Cobham five years ago. Sadly it sounds as though Cobham suffered that malaise so common to British companies. It was distinctive and successful in what it did, but it was under-funded and not outstandingly profitable. In consequence, in 2019 it was sold to a Private Venture company who split it into five viable operations (e.g. Communications; Mission Systems; Antennas; and Aviation Services, etc.) to be sold off separately and receive the investment needed and to return a profit. Another long established British company bites the dust – however, the good news is that its function does survive and continues to be successful, albeit under other names.
Cobham Aviation Services was quickly snapped up by Draken Inc. based in the USA, part of the Blackstone conglomerate, and renamed Draken Europe. It is based mainly at Hurn Airport, Bournemouth and in Teeside, County Durham. The range of activities undertaken continues to be quite staggering and they are complementary to Draken's established business involvement with the United States military.
From here onwards, my description barely scratches the surface of what Draken Europe is doing. It is comprehensive and complex and in nutshell "delivers mission critical solutions for air operations to the UK armed services". In layman's English that means they offer operational readiness training, aircraft engineering and maintenance, search and rescue and surveillance operations to military and government customers world-wide. Are you keeping up with me?
The military and related world is now so high tech, complex and reliant on being one-step ahead of its presumed adversaries, that governments have deemed it to be more effective and cost effective to sub-contract to civilian companies. A very high proportion of the support activities necessary to enable defence services to concentrate on achieving its objectives are managed and undertaken outside of the services. A crude parallel – you buy a car, but you rely on the specialised expertise of others to maintain it and keep it fit for purpose, don't you?
A few examples of activities might give you a flavour of what is undertaken by Draken Europe.
Operational Training and Operational Assurance
Draken operates 15 'Falcon 20' small jet passenger aircraft and one 'Diamond D42' piston engined aircraft. With these aircraft Draken is contracted to fly 6,000 hours p.a., via, on a daily basis five Falcon and one DA42 aircraft. There is a regular detachment for the Royal Navy abroad and deployments are whenever and wherever the UK services are, including on the aircraft carrier HMS Queen Elizabeth.
SHAPE/NATO Electronic Warfare Training (Supreme Headquarters Allied Powers/North Atlantic Treaty Organisation)
12 to 15 detachments in Europe p.a.
Self-sufficiency using one aircraft and two crews and engineering
NATO Electronic Warfare Core Pods and Draken Pods
Electronic Warfare training and target towing (including for the 48th Liberty Wing (USA) based at Lakenheath) and for the Royal Saudi Airforce.
Annual Exercises for UK and NATO forces
and so it goes on, and on. I have only reached page 2 of my notes and there are another six pages of similar detail to go. But, what does the work typically amount to?
Assume you are on a warship with sophisticated electronic systems for the detection and repulse of enemy activity. You can teach a person the purpose of equipment and how it should be used, but the only way to really know it is to practice – time and time again. This can be done using simulators, but live situations with an unpredictable human at the other end instead of artificial intelligence can be very different in its demands. The Falcon jets carry not passengers, but arrays of the latest electronic warfare systems tuned to replicate the latest known electronics carried by the known enemies (in fact the back end of the aircraft interior resembles a mad professor's laboratory!). As the Falcon targets the warship using its electronics as if to attack, a Hawk trainer aircraft flies in formation with the Falcon and at the appropriate time when the Falcon "fires" its missile at the ship, the Hawk streaks ahead of the Falcon to represent a missile on its attack profile. Meanwhile, you are on the warship looking at your screen trying to see through the 'fog' of jamming devices aimed at you, endeavouring to take appropriate action to avoid the attack and to retaliate. It sounds like big-boys-toys doesn't it, but this is deadly serious and as near as you can get to a genuine live situation. For operational flexibility the Falcon carries electronics internally and in up to four detachable pods slung on hard points under the wing. These exercises are typically undertaken around seas in the south of England, whereas from Teeside in the north the exercises are more typically in conjunction with the RAF in their Typhoon, Tornado and now F35 fighters, conducting various simulated aerial situations, including QRA (Quick Reaction Alert) against Russian aircraft, although it has to be said that the Russians are lately providing an increasing number of live alerts themselves close to our airspace borders.
It is sobering to be told that the Falcons were first employed when the company was Flight Refuelling, then Cobham and now Draken – they are up to 50 years old, but still doing a sterling job. As a civilian organisation Draken is regulated by the CAA (Civil Aviation Authority) as if it was an airline. Draken has a world-wide Aircraft Operators Certificate, the pilots are all ATPL (Airline Transport Pilot Licence) qualified and 60-70% are ex-military pilots. All of the Electronic Warfare Operators are ex-RAF or RN fast jet Navigators or Observers.
The range of simulations that can be undertaken from the aircraft electronics suit just about all situations you can think of, including super-sonic speeds, or even drones. The DA42 aircraft carries the MX15 camera used on drones and training sorties typically last 4 to 5 hours – the reason for simulating a drone? They are banned from flights over the UK.
Each of these exercises is planned in the most minute detail and they often take place in the morning and then again in the afternoon. That is a lot of logistics to deploy appropriate resources at the right time, right place and to achieve the right effect for all participants. And, guess who specialises in providing those logistical services? Yes, well done, Draken does. As previously indicated, the range of activities they provide is incredible and vast. I cannot do it justice. Draken undertakes all the leg work to ensure that the military can concentrate on what t does best and is there to do, rather than be distracted by the peripherals outside of achievement of their objective. Again, rather like you having a contract hire car, where someone else thinks about the maintenance, insurance, road tax, etc., while you concentrate on making your own business successful.
What happens next? Already Draken is working closely with the MoD on planning beyond 2030 for the Next Generation Operational Training. Unsurprisingly, Draken even sees things that the military  does not and is completely unaware of, which is excellent for broadening the balance of live training with visual and constructive effects. It all helps to keep down costs and the introduction of the F35 fighter is a good example. It is costly and everything to do with it is costly. Simulators for training are good, but in reality not enough, so electronic effects provided by Draken add a level of reality not otherwise achievable, but at lower cost.
It is possible to follow some of these training exercises, if you are aware, by downloading onto your iPad free apps such as 'freedar.uk' or Flightradar 24. There you can watch military aircraft on their sorties and, if you know how to spot them, the Falcons and the DA42 – but do not quote me, or bring me your problems or queries please!
Thank you Bill Preece for an enlightening evening enjoyed again, via the wonders Zoom, by another well attended audience.  Thank you also to the backroom boys for making it happen so effortlessly.