The restoration of the de Havilland DH112 Sea Venom FAW22, by Alistair Hodgson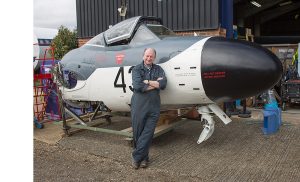 Just a couple of months ago we had a most enjoyable and enlightening talk about the 'Wooden Wonder', aka the de Havilland Mosquito. The main theme of that talk was how its plywood and balsa wood sandwich construction contributed to its incredible performance and all-round success. That all happened in the 1940s. By the early 1950s jet powered military aircraft were rapidly replacing their piston powered predecessors and de Havilland entered the arena with the very distinctive twin boom Vampire – which as you all know, was the first pure jet aircraft to land on an aircraft carrier (HMS Ocean, December 1949) and was flown by the renowned Captain Eric (Winkle) Brown. The Vampire was a very compact and sleek single seat fighter aircraft. Almost inevitably a side-by-side two-seat training version, the Vampire T11 followed, providing a tight, or should I say 'cosy' environment for instructor and student. The Vampire, in common with most aircraft up to that period had straight wings, but it was becoming evident that higher performance would be achieved with swept wings. This led to de Havilland introducing the Venom with a more powerful engine and a distinctly swept leading edge to its thinner profile wings, to which distinctive wing-tip fuel tanks were added. The RAF operated the Venom in both single seat fighter/bomber form (the FB8) and as a two-seat night fighter (the NF.2). Meanwhile, the Fleet Air Arm adopted the Venom FAW20 (Fighter All-Weather) version for operation from aircraft carriers. To navalise it, the Sea Venom had a long-stroke undercarriage fitted to take the loads of a carrier landing, an American radar system in its nose, folding wings, plus a 'sting' landing hook that retracted into a very neat fairing over the jet tailpipe. By this time, Martin Baker ejector seats were fitted as standard, and due to the compactness of the cockpit, an essential pre-take off check was to ensure each crew member had not inadvertently either used, or tangled his own seat belts with that of his cockpit colleague, which would result in a calamitous emergency ejection and notable air accident report.
Now, not everyone knows this, but being de Havilland, despite appearances, the fuselage is built very largely wood. Like its stable-mate, the Mosquito, a plywood/balsa wood laminate sandwich construction was used and finished with a fabric overlay. It is remarkable isn't it; jet age yet still extensive wood construction.
Our speaker, Alistair Hodgson, had truly first hand experience and detailed knowledge of this construction through his involvement with the restoration of Sea Venom FAW22, XG730. Most Sea Venoms were built not at de Havilland's home base in Hatfield, but at what was known as the Airspeed factory at Christchurch in Hampshire. However, having said all that, XG730 was, in fact, built in Chester in 1957! It served between 1957 -1960 with 891, 892 and 894 Squadrons on operations, including the fighting in Aden, from HMS Bulwark  and HMS Centaur. By 1960 the Sea Venom was being phased out of service following the introduction of the Sea Vixen, so XG730 went into storage. Its flying days were not over however and between 1965 and 1970 it flew with Airwork before touching down for the very last time in July 1970. It next emerged as a gate guardian at HMS Dryad in Hampshire, where it remained outside in all weathers for eight years. Being of wooden construction it had a grand opportunity to gently rot away at its leisure! In 1978, the de Havilland Museum acquired it from the MoD and took the dismantled parts back to its Museum in London Colney. where it remained relatively untouched from 1978 to 2006.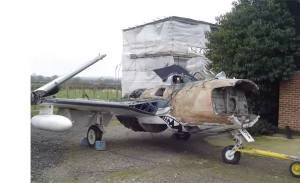 It was then in 2006, that Alistair, a chemical engineer by training joined the nearby de Havilland Museum and was asked if he would like to take on the restoration of XG730. If you look at the photographs of the aircraft before restoration started it is dismal to say the least and without doubt Alistair took on a challenge. However, from my own experiences, I know that appearances can be quite deceptive and it is what lies underneath the grime and slime that truly matters – good and bad. For his part, Alistair brought with him a lifetime of experience – totally unrelated to aircraft restoration, but, by jove, he had bundles of enthusiasm, common sense and keen interest in what he was about to tackle.
It was obvious that everything would have to come off for a full strip-down and each part to be individually treated and refurbished. A lick and a polish it was not going to be.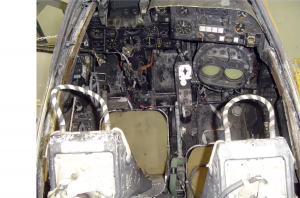 Along the way, Alistair learnt a number of lessons. The first dawned on him after he started stripping the aircraft down. Everything you remove, has to be put back – but a great deal of time can pass before the rebuild starts. The manuals are an enormous help, but they never seem to reflect precisely what you have immediately in front of you. Recognisable, but not quite the same! First Lesson: take masses of photographs from every conceivable angle before you touch anything. Gradually everything was taken off, each individual item carefully labelled, carefully stored in a logical, retrievable manner and finally logged for traceability. That led to Lesson Two: Assume that you will not be rebuilding the project. Instead it could be someone who has not previously had any involvement and is starting from scratch. Hence the thoughtful, logical attention to detail. Stripping out the cockpit was a classical example of just how many components are involved, from the gun-operated Mk 4 Martin Baker ejection seats, to the seemingly endless number of switches and buttons on the consoles, let alone what is behind them. It all had to be methodically logged.
Wherever possible all original components and materials were refurbished and reused. In the perfect world that would have applied also to its de Havilland Ghost 105 jet engine, but having removed all ancillaries, it proved to be too risky to try to attempt a total deconstruction without causing irreparable damage to the compressor casing. Common sense must be applied to recognise limits of what is possible without doing harm. So, shot blasting made this and many tasks a good deal easier.
Coming back to the wooden fuselage, several concerns became evident. Alistair's background in chemistry quickly recognised damage caused by the fitting of metal equipment to the wood bulkheads and structure. To ensure a secure fit de Havilland embedded aluminium ferrules into the plywood/balsa wood laminate to which metal components could be attached. Over time these aluminium ferrules simply 'exploded' and each had to be carefully removed, the whole area of bulkhead rebuilt and strengthened in readiness for the rebuild.
Some areas of the fuselage wood panels had also completely corroded, so reluctantly those areas had to be cut away and new panels blended in. For simplicity, Alistair made good use of a model aircraft shop close to his office in London. From the shop he could buy stock lengths of balsa which could be easily transported home and then shaped and glued together to form the inner layer of the laminate. The aircraft will not fly again, so a practical and durable solution was all that was required. The rot in the cockpit floor after standing outside for eight years as a gate guardian, was tackled in relative comfort after everything had been stripped out of the fuselage. By tipping the fuselage vertically so that it stood pointing upwards and resting on its firewall, raised the cockpit floor to a very convenient level and made the task so much more manageable.
Once all the panel repairs had been made shipshape again, it was time to start treating the wood for long term protection. Microcellular dope was applied to the bare wood, then overlaid with linen, by hand, followed by more dope to make the wood less porous. After each coat, any residual bubbles were pricked and the whole surface was doped again; and again; and again. In all 12 to 15 coats of cellulose dope were applied to the surface. Next came the colour painting, which this time was sprayed on until a further 12 coats had been applied. It does look good.
The time had arrived at last when refitting could commence by attaching the radome, which did not require too much attention, the numerous installations on the engine firewall, plus the canopy. The canopy refurbishment was a task in itself. The framework is magnesium alloy assembled from three separate pieces which had corroded themselves together, problem No.1; It was held on to the fuselage by about 50 bolts which had rotted themselves in, problem No.2; and Problem No.3, the Perspex glazing had completely fogged over and needed to be replaced – a very expensive prospect indeed. Problems 1. and 2. were resolved with time and patience. Problem 3. was resolved with a little imagination and initiative. Close by to London Colney are the Elstree Film Studios, included in which is a hive of cottages industries, geared up to meet the unusual demands of film-making. Sure enough, there is a specialist Perspex 'shop' and for £2,000 he replicated all the errant glazing, which is worth every penny spent.
At last the fuselage was ready to receive all the decals and the large, hand painted side code numbers. Now, you can see for yourself the comparison of the completed fuselage of XG730, sparkling like new, against its original rather pathetic state 15 years ago before renovation started. Yes, 15 years. It is a labour of love by volunteers, fitted in between the everyday demands of family life.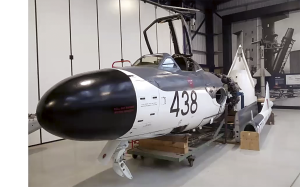 That is not the end of course. The next step is to refurbish the wings and main undercarriage. Way back in 2006 when Alistair was asked how long it would take to refurbish the fuselage, he estimated roughly 7 years. Now when asked how long will it take to complete the refurbishment of the remainder of the aircraft? The answer is 'probably roughly 7 years'. You will note that 'refurbishment years' are pretty flexible. Likewise, when asked how far the restoration has progressed? The answer is 'about 80% with another 80% to go'. The joy of it all is actually making it happen and the reward is seeing the finished elements as they build up and knowing that they will, in all probability, now outlast us.
Thank you Alistair Hodgson for a super Zoom talk including, I believe, 76 photographs to illustrate each step. Thank you also for your long standing membership of SOFFAAM, albeit from a not easily commutable distance to Yeovilton.