The Goldfish Club" by Cdr Jason Phillips OBE RN (Rtd)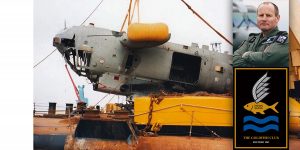 The Goldfish Club has a claim to be the most exclusive club in the world – a club that no one wishes to join. The purpose of the club is "to keep alive the spirit of comradeship arising from the mutual experience of members surviving 'coming down in the drink'". That is a severe, do or die, qualifying test to pass. Most did not survive, regrettably. But what are the origins of the Goldfish Club? In 1826 the P.B. Cow company was created to manufacture articles in rubber, from clothing to hot water bottles. In the build-up to WW2, in 1938, the company sought military contracts starting with gas masks and shortly afterwards the manufacture of rubber dinghies, 'Mae West' lifejackets and other ASR (Air Sea Rescue) items.
Many of the aircrew who had to 'ditch' (make an emergency landing on the sea) asked if they could visit the P.B. Cow factory to say thank you for saving their life, to see the dinghies being made and to meet the people making them. The main force behind the dinghy development was C.A. Robertson (Robbie), the Chief Draughtsman for P.B. Cow and he was struck by this show of gratitude and the stories and spirit of those rescued.  A feeling of comradeship was evident amongst them and it triggered Robbie to foster this by forming an official club for airmen who had survived a successful wartime ditching. In his own spare time Robbie took it upon himself to form and personally bankroll the club, which he decided should be the called the 'Goldfish Club' – Gold for the value of life, and Fish for the sea element.
Ideally, Robbie wanted to send each member a bronze medallion, but it was wartime and metal and materials were precious and in very short supply. Instead each member received a heat sealed bronze coloured membership card, a certificate and a badge in black showing a white-winged goldfish above two blue waves. Word of the Club spread very quickly and by the end of WW2 there were over nine thousand members, while advertisements relating to the Club could be seen in aviation journals far and wide. Members included people from all the allied nations and was not exclusive to aircrew. All work relating to the Club was largely voluntary. However, just making the badges caused problems due to the shortage of materials. This led to a plea going out publicly for the donation of redundant dinner suits to provide the black background material. The response was instantaneous and generous.
When the war was over it was intended that the Club should cease operation, but application forms continued to arrive at P.B. Cow showing that the spirit of the Club was still very much alive. In 1947 Robbie resigned from P.B.Cow to start his own business and he took the Goldfish Club records with him so that he could continue to administer it.
As time went by the number of records must have grown to a staggering volume and sadly an overwhelmed person simply disposed of them as being of no further value or interest. Oh dear. Thankfully, Robbie had his own set of records and all 13 boxes were donated by Robbie's daughter Susan. They now form the foundation of the Goldfish Club Archive. In 1953 the Club was resurrected on a formal basis and it is still the only one of its kind in the world. As previously mentioned, P.B. Cow also made life jackets, referred to as 'Mae Wests', and it was lovely to see a photograph of the actress herself alongside two airmen, each wearing a 'Mae West'. Among the archive treasures is a letter from Mae West dated November 1959 acknowledging her part in ASR history.
In due course, the P.B. Cow company followed the national trend and closed down, as did a large part of British industry as a whole. The factory site is now occupied by a Sainsbury supermarket, as you might have guessed, but in fairness they do display a plaque commemorating its role of the earlier factory in saving so many lives. Goldfish Club reunions are held annually, the first of which was in 1951 at the White House in Albany Street, London SW1, which conveniently had a large swimming pool in its basement and provided the centre of attention for post-dinner high jinks. Today there are around 500 members and due to the increasing safety of air travel, qualifying members are in the decline.
From the outset of this Zoom talk Cdr Jason Phillips presented us with some graphic film excerpts, showing initially a recent feature film of a WW2 B24 Liberator bomber crashing in the sea. It has devastating effects on the crew members, who are trying to make sense of what was happening, and to re-orientate themselves to try and make their way to safety. It is a very violent and distressful experience to crash at the best of times, but at sea you are faced with yet another potentially lethal dimension. Roughly 60 years later a potentially similar dilemma confronted 'Sully' Sullenberger (played by Tom Hanks in the film) who lost both engines shortly after take off of a US Airways Airbus passenger aircraft. 'Sully' famously made a successful landing on the Hudson River adjacent to Manhattan. All 155 people on board survived. Other prominent examples were shown, but not all potential members, including Winston Churchill, take up membership.
Since WW2, training for such events is now more realistic and formalised. Aircrew are required to undergo the dreaded 'Dunking' training in specially equipped tanks. In the 1960s HMS Vernon installed the prominent tower near the entrance to Portsmouth Harbour. This training has now been relocated to the Yeovilton air station's "Underwater Escape Unit". Under the watchful eye of instructors and divers, trainees take a seat in a metal container which is lowered into the water and rotated to cause disorientation in the darkened environment. All the trainees have to do is gather their wits and escape, using all the techniques given in their training. Ha! That is the theory. The reality is that no matter how often you train it is mind-numbingly disorientating when it happens. Thankfully training does kick in subconsciously.
Our speaker Jason has experienced all of this first-hand – the dreaded dunking training sessions, plus a real-life ditching. In September 1998, while crossing the North Sea to Holland in their RN Sea King helicopter, a Mayday call was received from a Jaguar aircraft that had ditched off the English coast on its way to RAF Coltishall. The Sea King offer to help was not required, but on the return journey from Holland they were asked to assist in the precise location of the Jaguar aircraft to facilitate its recovery. For this the Sea King hovered at 40 ft, lowered its sonar into the sea and obtained the fix. Just at that moment a fireball swept inside the helicopter from the back, right through to the cockpit, bathing everything in a terminal fire. The pilots decided to ditch immediately and in no time the aircraft was submerged. Jason quickly followed his rear seat colleague by swimming out through a side window – except that Jason's emergency seat pack snagged in the window frame. This brought him to an unexpected stop wondering what was happening and how much longer could he hold his breath? Jason now recognises that this is where the training kicked in automatically and made him consciously and methodically work back to investigate why he was not surfacing. Thankfully all four aircrew surfaced and were in the water for 45 minutes before being rescued. The salvage ship consequently found itself recovering not only a Jaguar, but also the Sea King (which now resides in a paintball park of all places).
As a result of this ditching, Jason became associated with the Goldfish Club and is now an active leading light in promoting its existence after all these years and the history and personalities behind it. His membership truly was earned by first-hand experience and survival, as tradition demands.
Altogether a most enjoyable and vividly illustrated talk. Thank you, Cdr Jason Phillips and long may the Goldfish Club continue in its exclusivity.