"Sextant to SatNav or 45 years in aviation" by Peter Griffiths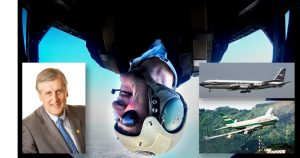 This is a different story to the naval aviation talks we normally enjoy, as you may gather from the title. Our speaker this evening has been a civilian pilot throughout his career, although it was a close thing when the decision had to be made. The fear of heights is also a bit of a side issue in truth and it doesn't apply to flying, as our speaker Peter Griffiths quickly pointed out. Peter has always felt unnerved by hotel lifts, particularly those mounted on the outside of tall buildings.
For Peter, a career in flying started when he was at school, wondering what to do next. The prospect of working in an office conforming to a daily routine did not sparkle on his rather hazy horizon. What did catch his eye was an advertisement in a newspaper. It called for applicants to be trained as commercial pilots, with the potential to earn £5,000p.a. (£115,000 equivalent today). What more could a chap ask for? Pots of money and no office routine. Peter promptly applied and in return he was invited to visit the College of Air Training at Hamble in Hampshire. The College had been set up after WW2 to train pilots for British Overseas Airways Corporation (BOAC) and for British European Airways (BEA), both of which were state-owned airlines. A great many of the pilots were ex-RAF, but demand for pilots was outstripping supply. Peter's visit to Hamble comprised test after test to establish suitable candidates, who were then given a familiarisation flight in a Chipmunk. He went home and waited to hear the result. Meanwhile, he also applied to join the RAF and was invited to attend a selection board at Biggin Hill. There were more tests, very much aimed at whittling down the number of applicants. Peter obviously did well and was offered an RAF commission. It was not a guarantee that he would spend his life flying though, so before answering, he contacted an astonished Hamble to ask if he was going to be accepted for training – not the usual approach! However, it worked, and they quickly answered 'Yes'. The RAF were not entirely polite when Peter informed them of his decision to join the Hamble College. Training started at Scone in Scotland, flying Cessna 150 trainers, before advancing to the twin-engine Cessna 310 for his Instrument Rating (IR) and night flying training.
18 months later and Peter successfully completed the training and obtained his Commercial Pilot's Licence (CPL) and IR, with 230 hours flying time under his belt. What next? Why, BOAC employed him as a second Pilot in one of its Boeing 707-436 airliner fleet. That is a big step from a small trainer to a 200 seat passenger aircraft, but what fun. What was it like in the cockpit in the 1960s? Not that enjoyable, in reality. Most aircraft Captains joined BOAC as a Captain straight from the RAF and they thought of themselves, and behaved, as if they were the Almighty himself. It was a rare event if the Captain spoke to any crew member and even more rare if he allowed the 1st or 2nd pilots to take-off or land the aircraft, on any flight. He could make as many mistakes as he liked, but you dare not tell him – hence some very avoidable crashes around that period!
Low-cost airlines did not exist. Passenger flying was the preserve of the affluent and high standards were expected and given. Consequently, the close-proximity of an off-hand, uncommunicative Captain might have been unpleasant, but the in-flight catering was a first-class delight. The flights themselves could be anything from a one day flight to the USA, with a quick turnaround back to Heathrow shortly after, or perhaps a 16 day return journey to Australia, with stops at Frankfurt, Teheran, New Delhi, Kuala Lumpur, Singapore, Darwin, Melbourne, and finally Sydney. "Flying the Flag" was a part of the journey and some stops saw very few passengers join or leave, but it created an impression.
How well did the Boeing 707 fly? Well, in 1955 at a show in Seattle, hometown to the Boeing factory, the test pilot, Tex Johnson, decided to make a mark and did an impromptu barrel roll. Assuming people would not believe what they saw, he turned around and did another. It was a capable aircraft, but by today's standards it demanded your attention and concentration, and it could take you by surprise. In those days before the introduction of the Global Positioning System (GPS) navigation was a skilled art. Positions were calculated using a compass, chart and 'The Air Almanac' in conjunction with your computer for calculations. The computer itself was a hand-held plastic wheel mounted on a plastic scale which you twiddled to line up the appropriate parameters to give a reading. It worked. Aircraft arrived (usually) at the right place at the right time.
The Chairman of BOAC at that time liked the Boeing 707, but was "encouraged" to also take the VC10, which he did under pressure. Peter made the transfer to the VC10, which he liked immensely (as did the passengers), not because it was British and so was he, but because it was a lovely aircraft in all respects. Its sales prospects were hampered by the rest of the world observing the BOAC Chairman's preference for the Boeing 707. The VC10 enabled Peter to really polish his navigation skills. Due to the reluctance of any Captain to share piloting the aircraft, Peter spent most of his flying hours with BOAC taking sights through the 'Periscope Sextant', which popped out of the roof, shooting stars and taking three plots every hour – with apparently remarkable accuracy it transpired.
Promotion at BOAC was an achingly slow affair. After seven years Peter was still second from bottom of the seniority list and he spent most of his time at home on standby. It was time to move on and an opportunity to join Cathay Pacific was too tempting to ignore. Peter remained with Cathay Pacific for the next 29 years and rose up the promotions ladder to fleet management and similar senior roles. Cathay Pacific (Cathay is a historical name for China) was created in 1946 by two ex-air force pilots who had previously flown "The Hump", the name given to the WW2, perilous, supply flights from India, over the Himalayan Mountains, to China in support of Chiang Kai-Shek and units of the USAF based in China.
Originally the airline, freight only, started with two second-hand DC3 Dakotas. It was immediately profitable and soon attracted the attention of the Chinese authorities, who detained aircraft in Shanghai. Cathay therefore quickly moved its base from Shanghai to Hong Kong. Hong Kong was under British authority at that time and a link with the Swire Group quickly developed. Around this time two Catalina flying boats were also acquired because of the lack of airports.
Growth was rapid and by the time Peter joined, the company had long been operating full passenger services. By the 1970s the fleet included the Boeing 707 and the Lockheed L1011 Tri-Star. Within just 4 years Peter was promoted to the left-hand, Captain's seat – at last. Cathay Pacific then added the Boeing 747-400 series to its fleet, which (although ever more complex with 365 gauges, dials and switches to manage) had powerful engines. It had a typical capacity of 400 passengers and it could lift 750 tons of fuel. El Al airline claims the highest number of passengers in a 747 Jumbo for a somewhat unusual humanitarian flight. The Israeli airline removed all the seats to squeeze in as many as possible Ethiopian refugees, in just one go. It took onboard 1,119 people and disembarked 1,121 – the extra two being born en route. Peter showed a photo of the inside of the aircraft, looking like a central London underground station at rush hour on a Friday evening – not an inch to spare, not even for the drinks trolley.
The range of photographs and film to illustrate this talk was impressive, descriptive and fast moving. Among these were some instances of engine failures, which are pretty rare (Peter had only 9 over 20 years) and as a rule they are little more than a nuisance, even though they look spectacular.
Being based primarily at Hong Kong Kai Tak airport Peter treated us to incredible yarns and film of the landing approach there. If you have landed at Kai Tak yourself, you will know exactly what it is like. Yes, you do fly very low straight towards the mountain with the city spread out at its base. You aim for the giant checkerboard painted on the side of the mountain. At what appears to be almost too late, you turn very sharp right and line up on final approach to the runway. And, yes you do look up at the skyscrapers at the end of the wing tip immediately after the checkerboard turn. I can assure you, it is very exciting and you have to trust that the pilot knows what he is doing and has a desire to walk away from the aircraft at the end of the day. The aircraft then has a narrow single track runway ahead of it, extending for most of its length out into the open sea. Get it wrong and at best you will get wet. That is what it is like on a good day. The Far East is prone to short notice typhoons and Peter assured us that white knuckles and fingers locked rigid onto the control column were to be expected. As ever, Peter showed several minutes of film from the cockpit and from the ground of big jets passing between the buildings and making some very unorthodox and hair-raising touchdowns. If you have not experienced it, hard luck. They have built a new airport, Chek Lap Kok, on a nearby man-made island, which is incredible in itself. It took only six years to build. Including the island, it came in under budget (£14bn) and ahead of time. Meanwhile our dear politicians, bless them, are still procrastinating over a third runway at Heathrow and do not mention the HS2 rail project. Google Kai Tak airport for a bit of fun via You Tube or whatever.
For those of you not at the Zoom talk you missed a treat, a very humorous treat. Do not be shy, if you have a computer or an internet accessible mobile 'phone, do join the next talk. It is so easy and we will happily guide you if required. If you choose so, you do not have to show your face or to talk. You simply listen and watch in the comfort of your home. Believe me, it is worth every minute.
Thank you, Peter Griffiths, for an interesting and fun talk. We look forward to part two in due course.